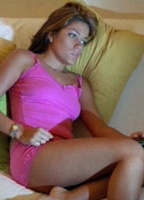 Name
: Adriana Fonseca
Date of Birth
: March 16th, 1977
Hair
: brunette
Ethnicity
: hispanic
Rank
: 0
View
: 14703
Biography
: Adriana Fonseca is one of the most recognizable actress's in the Latin world. With over 14 Soap Operas that have been around the world, 4 movies, TV series with TV networks such as Fox and Endemol, theatrical plays, hosting shows, dancing competition and now she's aiming for the American market with a special participation in the Netflix series "Documentary Now" and her first English movie, now in post-production, for release in 2017.
Winner of several awards in the US, Mexico and Latin America, Adriana Fonseca has grown as one of the most talented woman of her generation.
Her last project, "Corazón Valiente" for Telemundo, in the Latin world, achieved a record in audience as one of the most watched soap operas in the US.
She began her career when she was 15 years old in her hometown Veracruz, Mexico and in 1997 she won the award for the most beautiful woman for a recognized newspaper "El Herlado de Mexico" named "El Rostro del Heraldo".
She's done it all. She can do it all.