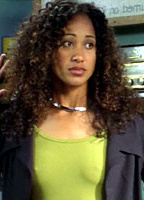 Name
: Chene Lawson
Date of Birth
: February 28th, 1971
Hair
: brunette
Ethnicity
: black
Rank
: 0
View
: 3690
Biography
:
Chene Lawson
began her career guest starring on provocative TV like
The Shield
before landing a role on the UPN pilot
All of Us
, produced by
Will Smith
and
Jada Pinkett-Smith
. Sadly the part was recast and Chene went on to work with
Ashton Kutcher
on MTV's
Punk'd
. The closest she's gotten to showing off her black cuties is in the romantic comedy
100 Chicks
(2002). Merely one,
Erinn Bartlett
, gets briefly naked, but Chene looks good in her underclothing.
1647 views
2630 views