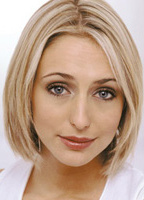 Name
: Ali Bastian
Date of Birth
: January 1st, 1983
Hair
: blonde
Ethnicity
: white
Rank
: 0
View
: 6274
Biography
:
Mr Skin is a large fan of this star! This chab especially loves her work in the following:
The Bill
"'Allo allo! What's this 'ere then?"
Such is the dialogue on the UK's long running 'bobby' drama,
The Bill
. Dealing with the goings on at a London police station, this well written, impeccably performed cop soap mixes act with laughs and changes focus each week on a different person in the station, keeping things fresh and not at any time letting one personality dominate. So how valuable is it? Well, it's been going since 1983 and is even eagerly anticipated in other countries such as Australia, where it's been playing for years. This writer is a well worn cynic, but I'm telling you,
The Bill
is so worthwhile that I often planned my work week around it when it was on telly. Alright, it's a fair cop guv'nor, I'm nicked. …
Read the full review
Hollyoaks
Hollyoaks is a fictional English city, one seemingly populated merely by gorgeous young people. A more cleverly conceived English take on the
Melrose Place
formula,
Hollyoaks
has been going strong for well over fifteen years and has a stunningly loyal fan base, and the reason as mentioned is clear: this one's overloaded with pretty and often times very sexy juvenile people! It doesn't hurt that the show's fairly well written (for a soap opera) and presented with attractive production values for a TV soap opera. …
Read the full review