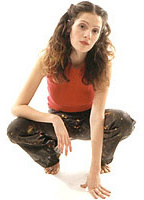 Name
: Aleksa Palladino
Date of Birth
: September 21st, 1980
Hair
: brunette
Ethnicity
: white
Rank
: 0
View
: 3327
Biography
:
Aleksa Palladino
first made a name for herself as the latter half of
Manny & Lo
(1996), playing the pregnant runaway sister of
Scarlett Johansson
. The indie caught the attention of Hollywood, who soon scooped up the pretty, brunette, and talented juvenile actress. Since then Aleksa has appeared in such fare as
Number One Fan
(1997),
A Nifty, Dry Place
(1998), and
Woody Allen
's
Celebrity
(1998). Things are looking up for this boobtastic babe--that is viewers' things. Although Aleksa starred in many an arthouse much loved, her career did not really hit the mainstream until an appearance in
Storytelling
(2001) opposite
Selma Blair
. Aleksa definitely appeared in Blair's skinful shadow in the film but managed to turn a few heads with her first ever nudity. She provided the icing on Selma's (cheese) cake by flashing full-frontal vagina and hooterage in photographs that some lucky person took and one more equally lucky stud perused. It may not be "live," so to speak, but it's sure to enliven that monster in your panties. U just have to wonder who got to keep these pics for their personal album after the production was complete.