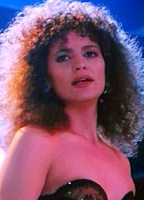 Name
: Alberta Watson
Date of Birth
: March 6th, 1955
Hair
: brunette
Ethnicity
: white
Rank
: 0
View
: 3354
Biography
: Perky-nipped
Peta Wilson
isn't the only forceful female worth yanking about on the series
La Femme Nikita
.
Alberta Watson
is beautifully bombastic as Madeline, the ball-busting top banana of the show's secret terrorist tail-kicking corp. Wicked in her wish to banish the baddies, she delights in psychological and sexual manipulation and cruel, groan-gouging torture. In directives to Nikita, you'll spy some serious Sapphic chemistry. A little slavery and discipline wanks each time. Watson watchers have been skintensely studying this cheeky beauty's performances since the '70s, when she bared her bouncy B-cups in
Force Play
(1978) and
In Praise of Mature Sweethearts
(1978). Alberta receives much praise and fluid-filled sprays for performances in skindependent films. Ms. Watson's career took a scandalously skincestuous turn in
Spanking the Monkey
(1994). Playing a tantalizingly twisted mama, bored with a broken leg, she turns her attention to her own son's seed, baring her mellow love melons and grassy knoll as the fruit of her loins looks on. Spanktastic! If you have seen Alberta in
The Sweet Hereafter
(1988), then you know what we're all hereafter: BOOBAGE, BOTTOMS, AND BUSH! Alberta delivers, including a full-frontal fest of
hair-iffic
proportions. Heavenly! Facile, my dear Watson! You're skinsational in (and out of) anything you touch.